The "Venice Italy Airport"
the main gate to Veneto
The Venice Italy Airport , named Marco Polo, even though is not that big, is the biggest and most important of Veneto.
Recently it has been renovated and enlarged.
The Marco Polo Venice Airport is connected to 63 different countries: a lot of european countries, including the Russian Federation, USA, North Africa and the Middle east.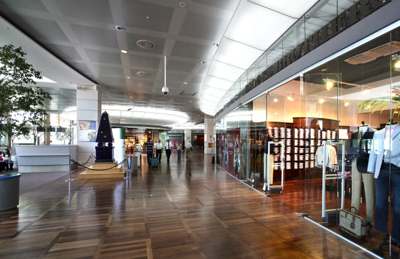 How to get to Venice from the airport?
(and vice versa)
It's very simple.
There are 2 regular bus services that will take you to Piazzale Roma, the gate to the historical Venice.
ATVO service:
I usually use this one, I find it more comfortable, the rides are faster, with the same timetable both for weekdays, weekends and public holidays.
The ride lasts 20 minutes. The buses are comfortable, with air conditioning and a big luggage van. The one-way ticket price is 3 €uros, baggage included.
You can easily buy the ticket:
1. through the automatic machines marked with the ATVO sign that are in the baggage claim
2. or just outside the airport exit door in the bus stop lane
3. or you can buy it on board.
ATVO timetable
Venice to airport and vice versa
valid until May 31, 2011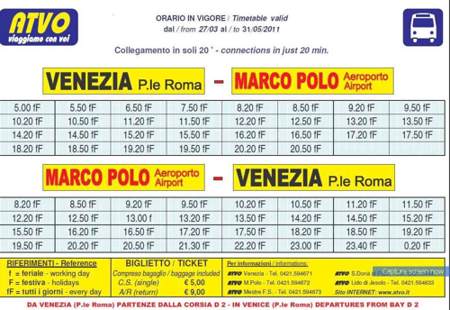 In case you want to go to Mestre, here below is the timetable.
Please note that unlike the Venice-Airport route, the bus schedule changes according to the days of the week
f=working days
F=Sunday and Public holidays
fF=every day

ATVO timetable
Mestre to airport and vice versa
valid until May 21, 2011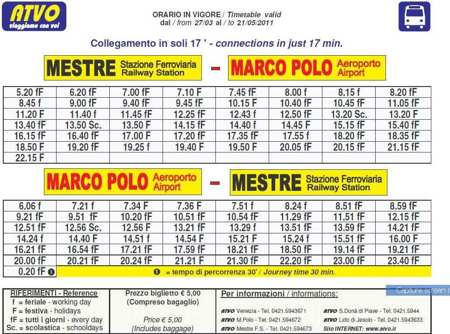 ACTV service:
It is a bit slower than ATVO, as it has several intermediate stops.
Take the bus number 5, or as an alternative, the 4, which has less more available routes though.
ACTV timetable

From the airport to Venice Piazzale Roma

Bus number 5
Mon trough Sat
Sunday and Public Holidays

4.08am
5.10am
5.40am
6.10am
6.10am
6.25am
6.40am
6.55am

from 6.55am to 12.55pm at
10-25-40-55 minutes

1.10pm
1.40pm

from 1.40pm to 4.10pm at
40-10 minutes

from 4.25pm to 6.10pm at
25-40-55-10 minutes

from 6.10pm to 11.10pm at
40-10 minutes

12.10am
1.10am
4.08am
05.10am

from 5.10am to 11.10pm at
10-40 minutes


12.10am
1.10am
From Venice Piazzale Roma to the Marco Polo airport

Bus number 5
Mon trough Sat
Sunday and Public Holidays
4.40am
5.40am
6.15am
6.40am

from 6.40am to 1.10pm at
10-25-40-55 minutes

from 1.10pm to 3.40pm at
10-40 minutes

3.55pm
4.10pm

from 4.10pm to 7.10pm at
10-25-40-55 minutes

from 7.40pm to 11.40pm at
40-10 minutes


11.40pm
12.40am
5.40am
6.40am
7.40am
08.10am

from 8.10am to 11.40pm at
10-40 minutes

11.40pm
12.40am
---
From the Venice Italy Airport it gives regular service a car taxi service as well:
Cooperativa Artigiana Radiotaxi
24h/24h
info and booking: ph 041 54 16 363 or 041 93 62 22
---
If you want to go from the airport to Venice by sea, you can use two different water taxi services:
Consorzio Motoscafi Venezia:
a quite expensive private service. You recognize them from the license number on a yellow strip.
info and booking: ph. 041 52 22 303 or 041 54 15 084
Motoscafi Alilaguna:
ph.041 24 01 701
www.alilaguna.it
---
From Venice Italy Airport to Venice Italy
Return from Venice Italy Airport to Veneto Explorer home page