Hiking in Italy: the Asiago plateau.
10 reasons for a getaway
to this Veneto's corner of paradise
Asiago plateau: nordic-skiing trails.
In the background the Dolomites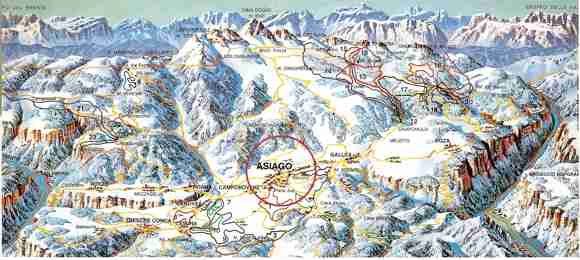 Hiking in Italy is a pleasant experience that you can enjoy almost all year round.
The Italian landscape can change dramatically in just a handful of miles: take a lateral road and in a while you'll find yourself tucked into an enchanted rural landscape away from the hustle and bustle.
That particularly goes for the region Veneto that is one of the most diverse areas of Italy.
The province of Vicenza – among others - is crowned with hills and mountains, where you can easily go hiking, cycling, horse riding and skiing surrounded by forests of beeches, pines and firs.
---
If you are dreaming of unspoilt rural landscapes and peace, you cannot miss the Asiago plateau, the biggest of Europe.
Have you ever tasted the Asiago cheese?
It is a well-known Italian cheese, and it is made just here, in this Veneto's upland dotted with cute and pacific cows pasturing green grass all summer long.
(To skip the first part of this articles and read a brief summary of the 10 reasons for hiking in Italy in the Asiago plateau, or just a getaway, scroll down).
The Asiago plateau is made up of two levels.
The first one is composed by a chain of mountains high up to 2341mt/6558ft, protecting the plateau and the villages from the cold winter winds.
The second level is characterized by a large rolling valley dipped in forests and covered with meadows, located at 1000mt/2801ft above sea-level.
Considered an out-and-out paradise for the nordic skiing lovers - or cross country skiing - in winter, hosting 500km/310mi of trails, this Veneto's plateau is a place blessed by the sun: even in winter you can often enjoy many long sunny days, even when the plain below is covered by clouds.
No doubt it is one of the best places in the world where to practice nordic-skiing, and it is no accident that it hosted two times the nordic world skiing championship. The next time is going to be in 2013.
A thick network of pedestrian trails will give you the chance to reach the most magical and secluded corners, where you'll feel the only humans on planet.

A bit of history
The network of roads and paths are a
remnants of the 1st World War
: the Asiago plateau was the scenery of bloody battles mostly between Austrians and Italians.
Other European countries were involved in that war: for this reason there is even a small British cemetery dating back to that sad period, tucked in a tranquil pinewood.
The 7 small villages spread over the Asiago plateau – which is also called Altopiano dei 7 Comuni (7 villages plateau) are welcoming, and you'll find boutique stores and restaurants, especially in the main village named Asiago.
Even if those villages are still pleasant they've lost most of their ancient charme during the first World War, when they were razed to the ground by bombings and fights. The original pre-war towns featured beautiful German style homes as this plateau happened to be sort of a crossroad between the Italian and German culture.
In fact a German population named Cimbri settled there during the Middle Ages with the green light of the Republic of Venice, in order to work primarily as lumberjacks. For this reason some people living in the plateau nowadays can still speak an old German dialect.
Unluckily after the heavy damages caused by the war, those villages were not rebuilt the same as they were. But considering the beauty of the surrounding natural setting, I guarantee that Mother Nature here should be the first reason for a getaway.
---

A typical day hiking in the Asiago plateau
This is really a place that you should consider if you are dreaming about hiking in Italy.
You'll be feasting your eyes on a still unspoilt landscape and keep in shape breathing pure air.
Then, after some hours of walking, you'll stop over by one of the malga (mountain houses where you can have a meal and buy their homemade food) spread all over the plateau.
There you can have both a hot meal or simply a dish of typical cold cuts accompanied with the unmissable Asiago cheese. To go out with a bang, you can sip the traditional grappa or some liqueurs made with high mountain herbs.
In one of those malga you may also buy a round of (authentic) Asiago cheese, or even other types of dairy products, like the soft and delicate ricotta cheese.
And that's for sure, it all comes from the numerous cows on pasture in the summer. Finally, do not miss the famous Asiago honey.
---
Think about hiking in Italy?
10 reasons for a getaway in the Asiago plateau
You breath pure mountain air and tuck into a magic and lush natural setting.
If you are thinking about hiking in Italy, this is a great place covered in a network of hundreds trails covering a lenght of 700Km/435mi, boasting lush forests and breathtaking views.
Relax in one of the many malghe (mountain shelters), tasting a hot meal like for example polenta with melted Asiago cheese and mushrooms...this is yummy, I recommend it! - or typical cold cuts accompanied by the omnipresent Asiago cheese.
If you like mountain biking it's a wonderful place.
In winter, if you are passionate with nordic skiing: this is universally considered a paradise for these sport lovers, boasting 500km/310mi of trails developing on different altitudes up to 2106mt/5900ft.

Wonderful for horse-riding as well (there are riding stables where you can hire a horse, and take horseback riding lessons).
A perfect place for snowshoes as well!
Do you like downhill skiing?? There are 70 ski-lifts tracks (but I would recommend the Dolomites mountains if you love this sport though).
A renowned ice-stadium to ice-skate.
A 18 holes golf course.

From Hiking in Italy to Vicenza Italy
From Hiking in Italy to Veneto Explorer Home Page